OLIVE TREE
Symbol of Peace, Wisdom, Fertility, Prosperity, Luck, Victory
The Olive Tree, present in Mythological Literature as well as the traditional celebrations of Greece, is a timeless symbol of honor, conferred to victors of the ancient Greek Olympics and famously associated with goddess Athena and her designation as the patron-state deity of Athens.
In Greek mythology, Athena competed with Poseidon for possession of Athens. Poseidon claimed possession by thrusting his trident into the Acropolis, where a well of sea-water gushed out. Athena took possession by planting the first olive tree beside the well. The court of gods and goddesses ruled that Athena had the better right to the land because she had given it the better gift. Olive wreaths were worn by brides and awarded to Olympic victors.
According to mythology, Heracles planted an olive tree in the temple of Hera in ancient Olympia, after completing its twelve labors. It was known as "THE OLIVE KALLISTEPHANOS", from which the wreath was made, the greatest distinction for each athlete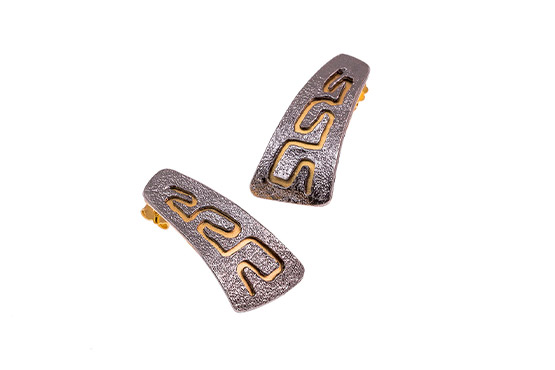 MEANDROS
A decorative Architectural border constructed from a continuous line, shaped into a repeated motif. It is also called the Greek key. The name comes from Meandros River, a river of too many twists and turns, along its 548 km, long way to the sea.
My personal interpretation to the symbol, is the "Journey" itself, rather than the final Destination, just like "Ithaca" the famous poem of Constantinos Cavafy.
SPIRAL
Symbol of Life, Consciousness, Evolution. Spiral shape and movement is seen everywhere in Nature, from prehistoric ammonites to the shape of Galaxies.
STONES
I have chosen to work on high quality mineral stones, mainly in rough and irregular shape, which provides a sense of uniqueness in every piece of jewellery.
Favorite stones are the sky blue Topaz, the olive green Peridot, the twilight purple Amethyst and others.
NATURE
Nature has always been an inspiration in the Art of Jewellery.
Respectfully, I am trying to convey it, avoiding the easy way of merely imprinting it.
IMAGES
Favorite songs, books, places in a "naive" perhaps translation on my personal field.
BASIC
I experiment with geometric forms, in a more liberated performance, "playing" with the contrast of the colors.